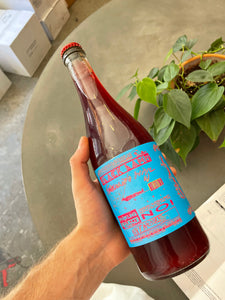 Region: Asureti, Kvemo Kartli, Georgia
Grape Varieties: Saperavi, Chinuri
Organic and biodynamic farming
Clay amphora
Unfined/Unfiltered
10% ABV
Notes
Light, spicy.. ferrous, salted wild strawberry, rhubarb.

Cider - rather than water - aged on lees/skins to create this wild piquette.

Piquette is a wine by-product that is made by adding water to remaining grape pumace. The sugars left further ferment to create a lighter, more sessionable, fizzy delight. It's a centuries-old tradition (historically, only really enjoyed by winemakers and their helpers) that makes use of a product that would otherwise be thrown away or composted.