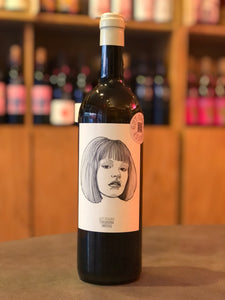 Producer: Gut Oggau
Category: Wine - Still - White
Grapes: Grüner Veltliner and Welschriesling
Region: Burgenland, Austria
Features: Organic, Biodynamic, No sulfites added, Orange wine, Vegan
About the Producer
Gut Oggau is a 13 hectares Austrian wine estate located in the province of Burgenland by the Lake Neusiedl. The estate is today run by Eduard Tscheppe – son of a winemaker – and his wife Stephanie Tscheppe-Eselböck – daughter of a 2 Michelin stars Austrian restaurant owner – who took over the estate several years ago.

The vineyards are cultivated according to biodynamic principles (Demeter certified) with traditional winemaking methods in the cellar. Also, each wine is vinified with the grapes coming from a single plot, allowing to get a wide range of authentic and different personalities of wines. Each cuvée is named after a fictional character created by Jung von Matt (German designer) and is integrated in a family tree (grandparent, parents and children).

Stephanie and Eduard focus on quality as a permanent quest, their aim is to achieve a natural vine balance and process the grapes as gently as possible, allowing them to make the best use of their vineyard's strength.

With only 15 to 18,000 bottles a year, Gut Oggau's wines are one of the most sought after wines of Austria. Complex and original, there is no suprise in finding some of their cuvées in the best restaurants of Europe (London or Paris for instance) to pair with the Haute Cuisine.