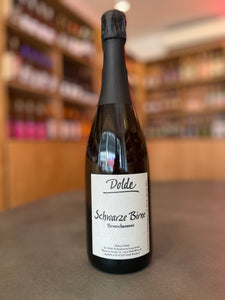 Vintage: 2015
Fruit: Black Pears
Style: Cider
Region: Swabia
Sub-Region or Appellation: Württemberg
Viticulture: Uncertified by any authority, Helmut Dolde is guided by his dedication to caring for the wild, alpine terroir he wants to preserve for future generations. Helmut eschews the organic movement—because it allows the use of copper sulfates—and focuses instead on leaving the soil in a better condition than he found it. A former scientist, he's constantly experimenting with synthetics that do less harm and are more biodegradable than treatments allowed under certain organic certifications.
Age of Trees: 100 year old
Soils: Calcareous marl with pebbles of limestone and clay (known in Burgundy as marne blanche) formed by corals and marine life that thrived in the sea toward the end of the Jurassic period.
Elevation: 1000 feet
Yeasts: Indigenous
Vinification: Gently pressed in a basket press then ferments in stainless steel.
Aging: 5 years on lees before disgorgement to express minerality.
Fining or Filtering: None
The black pear is a random seedling of unknown origin, which was previously widely used as an excellent cider pear on the northern edge of the Swabian Jura. However, there is no registered pear variety with the name in the regional variety register. From the shape of the tree top and the wood and buds, the shape comes closest to the pear but is still quite different The pears are nowhere near as elongated as the above. The fruit color becomes dark olive to gray-green when ripe. Hence the name black pear.

It is an absolute rarity as there are just a dozen trees left on the northernmost edge of the Swabian Alps, all over a hundred years old. The variety lost importance due to the decline in domestic cider production and the disappearance of traditional orchards. The juicy, somewhat tart fruits are characterized by a high sugar content. Their juice is ideal for the production of a sparkling cider because it has delicate tannins and the aromatics of a pear brandy.