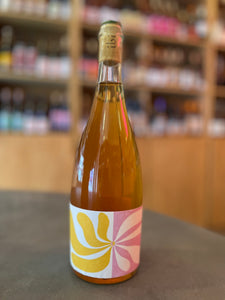 Producer: Ibi Wines
Category: Wine - Still - White
Grape: Riesling
Region: Ontario, Canada
Alcohol by volume: 10.1%
Features: Gluten-free
Tasting Notes
A still Riesling, fermented on skins for 13 days. Sustainably grown in Beamsville ON, from vines planted in 1999.
What's it like?: This wine is fun - tropical lychee, but also like eating ripe peaches on a secret beach. White pepper, no-sugar mango popsicles and leafy basil. Tannic, but not too tannic. A flash of barn-y funk fades with a quick swirl.
Decanting for an hour does wonders for this wine - it really helps the fruit open up. Enjoy lightly chilled.
10.1% ABV | 750mL
Ingredients: Riesling. Gluten free.
Wild ferment. Zero added sugar.