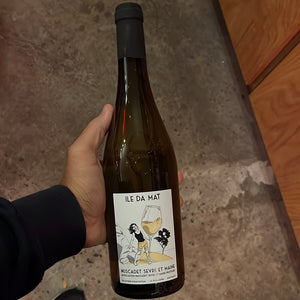 Loire Valley, France
Melon Blanc
Granite Soil, hand harvested, pressed with short maceration, the wine is then aged on fine lees btween 6 to 15 months.
Loire Valley. 100% Melon Blanc from vines rooted in granite soil. Hand harvested and direct pressed, followed by fermentation in old barrels with wild yeasts. Aged for 6-12 months in barrels on the fine lees. Unfined, unfiltered, no SO2.
In a hamlet called Vallet at the heart of the westernmost Loire, not far from where its mouth spills into the Atlantic, an area characterized by a kind of ambient oceanic churn, the Petiteau-Gaubert family has been overseeing the modern custodianship of a long-established estate called Domaine de La Tourlaudiere. Currently run, over 21 hectares organically certified, by Roland Petiteau, the grapes are farmed (and wines are crafted) according to the kind of ethos he laid out in a recent interview for French magazine Les Grappes, "What I can't stand is the unmeasured adherence to the trends of the moment. After being annoyed by this, I became completely indifferent to hyper technological wines, then to hyper woody wines and recently to completely crazy 'natural' wines." In short – the benefit of deep roots that forge the stability to outsee the flavor of a day, to keep an eye on the actual-quality of lodestar wines planted in the future's sky by an honest past. These are salty delights that, given extended time sur lie, broaden the aspect of what's possible when we think of "Muscadet." They are not one-note, but they do not feel overstretched; they are the more complex gems hidden on the western end of the Loire, in the fog of the sea, crossed by stream and tributary, leavened by temperate winters & relatively merciful summers.