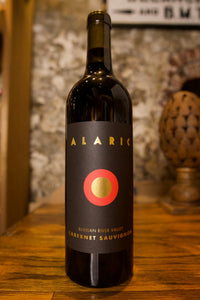 Producer: Inconnu
Vintage: 2018
Region: United States, California
Appellation: Russian River
Cuvée: Alaric
Varietal: Cabernet Sauvignon
Farming: No/Low till, regenerative viticulture, Organic
Vinification: Barrel Aged, Hand harvested, Indigenous yeast fermented, Organic
Soil Type: Alluvium Soil, Gravelly loam, River rock
Message from the Producer
95% Cabernet Sauvignon, 5% Cabernet Franc

A few years back I responded to a post about a four acre vineyard of 70s quad planted Cabernet Sauvignon, with a little hillside of Cabernet Franc in the Russian River. As a winemaker in constant search of terroir that matches my desire for expression of a grape, I was elated, and drove out the same day to 'handshake deal' taking all of it.
The parcel is buried back in the hills of the Russian River, just off of Westside Road. It's on the Bacigalupi property, and was being farmed by Dairy Man, turned grape farmer, John Bucher – better known for growing Pinot Noir. John agreed reluctantly to farm no till organic for a payment increase, and we spent a couple years sending articles back and forth debating farming practices.

Traveling up and down the gravel road to get to this forgotten Cabernet Sauvignon oasis felt much like entering a secret garden, or traveling back to a California I never got to know, but have simultaneously reminisced. The Rows are nearly 10 feet wide, six foot spacing between plants, an old creek bed beside it that for most of the year ran dry, and a lovely little tree house hiding in the camouflage of brush on the Eastern slope.
I fell deeply in love with this vineyard, in a way that you never want to love something that does not belong to you.

I made the wine in 18 and 19, and it expressed all of the things I could have ever wished to say about California, and its subtlety – its subtlety that has been replaced with a uniformity to gaudiness. The wine was bright and brambly, with a bloody depth, and had floral, almost pomegranate quality, all encapsulated in the dusty earthy smell of cooler climate well placed Cabernet. -Laura Brennan-Bissell, owner/winemaker