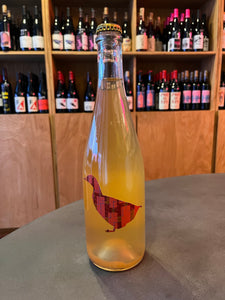 Producer: Joao Pato (Duckman)
Category: Wine - Sparkling - White
Grape: Fernão Pires
Region: Bairrada, Portugal
Appellation: Bairrada
Features: Pétillant naturel
Notes
100% Fernão Pires (a.k.a. Maria Gomes) hand harvested in mid-August undergoes a five day maceration followed by spontaneous fermentation which completes in bottle for a natural pet-nat fizz. Unfined and unfiltered this pet-nat is real hazy and a little chunky not to mention a low ABV clocking in at just above 10%. Sensory notes include lemon curd, grapefruit pith, mango, papaya and white pepper all wrapped up in a chalky salinity. Tropical, slightly spicy and a tinge of bretty funk.


ABOUT THE PRODUCER
The Duckman wines express the true character of Bairrada's indigenous varietals and its exceptional maritime influence. There are no indications of the region on the labels, done intentionally to demonstrate an acute sense of place and varietal typicity through minimal intervention in the cellar. Maria Pato, the daughter of Luis Pato, created this project because of her love of the region and varietals, so much so that she felt constrained by the standards of Bairrada wine making. For both of them only the indigenous varietals can be Bairrada wine, not imports that want to claim it as their own identity. Luis and Maria work from two main vineyards, Amoreira da Gândara which is composed of mostly sandy soils, and Óis do Bairro which is composed of mostly chalky-clay soils. Here they grow both red and white varietals: Baga, Bical, Cercial and Fernão Pires.