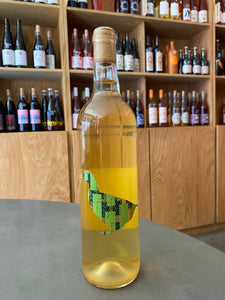 Producer: Joao Pato (Duckman)
Category: Wine - Still - White
Grape: Bical
Geography: Portugal
Features: Sustainable
Notes

100% Bical
Averaging 20 years old, the vines are planted on .15 hectares of sandy soils called Amoreira da Gândara. The vineyards are farmed sustainably and the grapes are harvested in early September, de-stemmed and spends a short time on skins before being allowed to spontaneously ferment partially in French oak and stainless steel (temperature control), which lasts three weeks. The wine spends no time on lees and is aged in French oak for six months. Not fined or filtered.

There's a short maceration on the skins, but not to arrive at an orange wine, more for texture and grip. Fermentation is in oak and stainless steel, and aging is in French oak for about 6 months before bottling. It's salty, refreshing and quite fun all around. No filtration, so there is some cloudiness to the wine

About the Producer
The Duckman wines express the true character of Bairrada's indigenous varietals and its exceptional maritime influence. There are no indications of the region on the labels, done intentionally to demonstrate an acute sense of place and varietal typicity through minimal intervention in the cellar. Maria Pato, the daughter of Luis Pato, created this project because of her love of the region and varietals, so much so that she felt constrained by the standards of Bairrada wine making.
For both of them only the indigenous varietals can be Bairrada wine, not imports that want to claim it as their own identity. Luis and Maria work from two main vineyards, Amoreira da Gândara which is composed of mostly sandy soils, and Óis do Bairro which is composed of mostly chalky-clay soils. Here they grow both red and white varietals: Baga, Bical, Cercial and Fernão Pires.