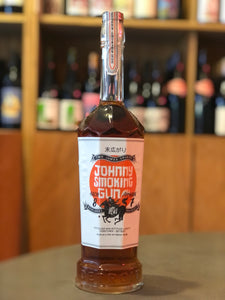 Producer: Two James
Category: Spirit - Whiskey - Other
Region: Michigan, United States
Alcohol by volume: 43.5%
Notes
Johnny Smoking Gun is a story of East Meets West. An American Blended Whiskey crafted specifically to compliment the "umami" of the rich pork and fish broths of Japanese cuisine. This delicate smoky blend of 70% corn and 30% rye will surely not disappoint. 


ABOUT THE PRODUCER
Born out of the belief that family, friends and community are essential parts of life, Two James is far more than just an extraordinary product. Two James commemorates the exceptional lives of two great men who through hard work, perseverance and passion for life, were able to leave lasting impressions on the people they loved and the communities in which they lived.

Two James is located in Corktown, Detroit's oldest neighborhood, and is the first licensed distillery in Detroit since Prohibition. Two James is committed to producing only the highest quality environmentally conscious handmade spirits utilizing locally sourced agricultural products with the aim of revitalizing the community and reinforcing the craft product movement.

We invite you to join us in celebrating the Spirit of Detroit™, the Spirit of Family and the Spirit of Friendship. Two James….the Spirit with a Spirit.