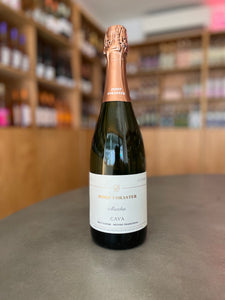 Producer: Josep Foraster
Category: Wine - Sparkling - White
Grape: Macabeu
Region: Catalonia, Spain
Appellation: Cava
Alcohol by volume: 11.5%
About the Producer
Located in central Catalunya, Conca de Barbera is well known for its production of cava, but it is also home to Mas Foraster, one of two producers to make a red wine from Trepat, a native grape that is typically reserved for rose wines and cavas. Using estate fruit only, the family-run Mas Foraster practices integrated farming and occupies 29ha, 14ha of which are dedicated to the production of red grapes, including 3.5ha of 51 -year-old vines of Trepat.

Growing grapes for the past 150 years, Mas Foraster started vinifying their own wines in 1998, when Josep Foraster took over the family estate. When he passed away prematurely, his sister Julieta took over, only to pass the baton to her son, Ricard Sebastia, who currently conducts all orchestration on site.

Conca de Barbera is different from other regions in Catalunya, because it's the one place where there's a Mediterranean effect. Unlike Priorat, Conca de Barbera is not blocked from the Mediterranean Sea by the Prades mountain range.

According to Ricard, there are only 1100ha of Trepat planted around the world, and 1000ha are located in Conca de Barbera. Ricard decided not to use his Trepat grapes for a cava or a rose because the grapes "had enough potential to make a red wine--they had enough character." Allowing this character to express itself, Ricard uses no pesticides and no chemicals in the vineyard, relying instead on sulfur and copper. As compost, he uses the remaining skins, stems, and pips. "What comes out of the vineyard goes back into the soil," says Ricard. Using only indigenous yeasts, every year at Mas Foraster, they preserve the vintage bloom, by encouraging these native yeasts to reproduce, so that they can be frozen for future use. If a particular vintage isn't reacting well to its native yeasts, then Ricard will access the frozen bloom, so that he can avoid the need for commercial yeasts. A finicky grape, Trepat thrives in alluvial soils of clay and sand. With light tannins, bright red fruit, and searing acidity, Mas Foraster Trepat sees five months of French oak, and at 13% abv it's is an ideal wine with which to transition from summer into fall.