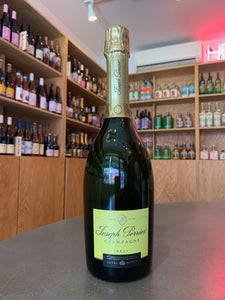 Chardonnay, Pinot Noir, Pinot Meunier, including about 20% reserve wines.
Very delicate classical brut champagne from one of the older family houses. 
Staff Note: elegant; best champagne I've had under $50
👁 gold

👃🏾 green apple and vine peach bring a fruity touch
👅 a perfect balance between freshness and richness; full-bodied, smooth/creamy, tiny bubbles, gentle citrus acidity and nice roundness on the palate, long and refreshing finish.