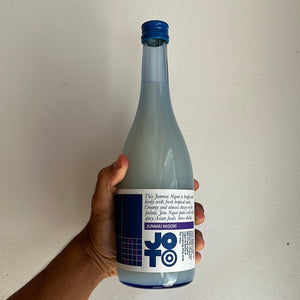 Supplier: Kobrand Corp
Producer: Joto Sake
Category: Sake - Junmai
Raw material: Shinsenbon Rice
Region: Chugoku, Japan
Subregion: Hiroshima
Alcohol by volume: 15.0%
Features: Nigori
Notes
Jato Nigori is brewed by the Nakao Brewery, which was founded in 1871and is now managed by the 6th generation of the family. The brewery has pioneered revolutionary techniques and ingredients in the sake industry. Unlike most nigoris, which are syrupy sweet, Joto Nigori shows depth and earthy notes, which make it more food-friendly and sophisticated.

TASTING NOTE
Joto Nigori is a junmai, which lends a dry, earthy balance to the milky, coconutty fruit notes that are typical of the nigori style.

FOOD PAIRING
Serve chilled. Stands up to the grease and grit of burgers and steaks. Also wonderful with Thai, Vietnamese, and Indian curries.
ABOUT THE PRODUCER
Many people love sake but find it intimidating and indecipherable. Joto's mission is to serve as a bridge between Japanese artisanal sake and the American market. They aim to bring the world of artisanal sake to life without "dumbing it down," "Americanizing it," or just making it cheesy.

Joto is Japanese for "highest level" and describes the makers of our sake and our aspirations as their importer. They are the exclusive importer for multi-generational, family-owned breweries whom they identify and approach after trying their sake in Japan and reading about their brands in Japanese food and beverage publications. Our jizake (local) breweries are located throughout Japan, producing sake in small batches with locally-raised indigenous rice varieties, offering flavors and styles ideal for a range of cuisines. Our passion for breweries that have rich and wonderful histories makes them fun to learn about and explore.

Joto offers a unique journey into the heart of the world of sake. Their bottles feature English-language labels with producer names, locations and helpful tasting notes.