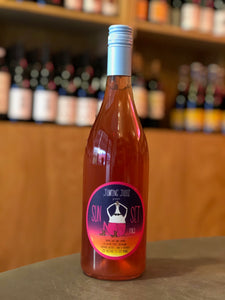 Region: Victoria, Australia
Grapes: Sauvginon Blanc, Gewurztraminer, Shiraz
The mesmerizing colour of a warm long sunset of the WA ocean, this Jumpin Juice is fun times juice.

It's not quite an orange wine and not quite a rose but it sits somewhere in that range.

The Sauvginon Blanc and the Gewurztraminer both are fermented on skins, so is the Shiraz but only for a short time. 

The whole lot is then combined together in a witch's brew of tropical fruit punch, stalks and spice. Its a cosmic, biodynamic, crazy wine that you will be knock back on the beach all summer long.
About Jumpin Juice
Jumpin Juice is a collaboration between long-time friends and now Gippsland-based winemakers, Patrick Sullivan and Xavier Goodridge.

Both have amassed their own loyal followings for high-quality lo-fi wines made from top quality fruit.

With Jumpin Juice they are free to explore parcels of fruit from all over the country - not just within their own G.I.

These are fun, playful wines made with little to no additions built in a 'drink-me-now' style. Perfect picnic wines here for good times in the sun.