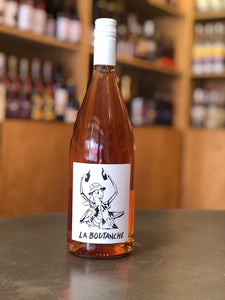 Producer: Frantz Saumon — La Boutanche
Category: Wine - Still - Rosé
Grapes: Gamay and Côt
Region: Loire Valley, France
Subregion: Touraine
Appellation: Vin de France
Organic/Biodynamic
An incredibly crisp and clean natural rosé of Gamay and Côt grapes. Organic farming, wild yeast fermented and bottled without fining and filtering. A liter bottle befitting the 'boutanche' line of wine, the term being French slang for an easy-drinking wine. 
Tasting Note: strawberry/raspberry/cherry jolly rancher
👁 vibrant strawberry

👃🏾 bright raspberry/grapefruit and citrus notes 
👅 Bright raspberry notes, racy minerality, and a long tart finish.
ABOUT THE PRODUCER
Hipster wine, version 2.0!

Frantz Saumon makes La Boutanche wines the Loire. They are all naturally fermented, all stainless, all organic fruit from the grower Philippe Bougré (who is the same grower that Puzelat and Lemasson buy most of their Sauvignon and Gamay from). Clean, gluggable, classic examples of Touraine fruit, for afternoons with friends in the park drinking out of plastic cups.

A different producer, Gerben Tonkens, makes La Boutanche Cinsault in the Rhône. Gerben Tonkens is the assumed name of a well-known natural winemaker from the Ardèche region of France.