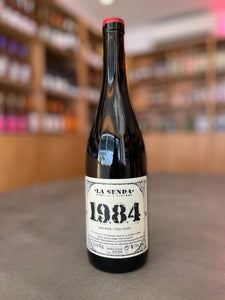 Producer: Diego Losada — La Senda Bodegas y Viñedos
Category: Wine - Still - Red
Grape: Mencía
Region: Castilla y León, Spain
Appellation: Bierzo
Features: Organic
Staff Notes
1984 is sourced from 3 old-vine vineyards in the hills of Priaranza del Bierzo, in the southwest part of the appellation. This is where Mencía thrives and at its most expressive. The vines are 70-90 years old and planted on clay soils incorporated with slate and trace minerals at 650 meters elevation, some of the highest vineyards in Bierzo. The grapes are partially destemmed, macerated for 7-8 days in 3 large oak casks. The wine is then transferred to small barrels to finish primary and malolactic fermentation, then aged for 8 months.
The finished wine is bottled without fining, filtration and only minimal SO2 addition.

Producer Notes
Occasionally a winegrower emerges who redefines an appellation in order to show its true potential. In our opinion, Diego Losada has done just this in Bierzo. In a relatively short time, this young man has built a small bodega, gained an extraordinary understanding of his vineyards, and is employing a non-interventionist approach to both. His resultant wines show an incomparable purity of fruit, with an intensity and focus that evoke the high elevation and rugged countryside of this region.
 
D.O. Bierzo, located in the northwest province of León, is known for its Mencía-based wines with plenty of fruit and spice character, as well as an important stop for travelers who walk the Camino de Santiago. Here the travel-weary pilgrim will find hearty Castellana food and much-needed repose before crossing the Cantabrian Mountains into Galicia toward the North Atlantic coast. Diego is in many ways a fellow pilgrim, in search of the "Atlantic" in his wines, and even named his project La Senda, which translates to "the path" or "the way" in Spanish, although Diego says that this is "a more mental than physical path."
 
He was born in Ponferrada, but spent much of his childhood living in Madrid and Burgos and playing electric guitar. After returning to Bierzo in his late teens, he studied organic chemistry at university, acquainting himself with winegrowing through a scientific perspective. Eventually, Diego rejected the rigid nature of science, turning to the open-ended and intuitive philosophy of natural winegrowing. He worked at a few larger wineries in the region, but eventually decided that he needed to make wine his own way. After recuperating 3 small parcels, he bottled his first wine with the 2013 vintage. He currently rents 15 parcels totaling just over 5 hectares, focusing on bush-trained vines with at least 60 years of age, in sites relatively isolated from other vineyard land so that any chemical treatments cannot taint the soils of his own. Using organic viticulture Diego encourages biodiversity, letting the natural flora grow amongst the vines, a philosophy that is "respectful of the environment, an agriculture-based practice that is not intrusive and uses only natural methods to maintain the biological balance in our vineyards."  He also green-harvests to attain yields as low as 1.5 kilo per vine, versus the more typical yields of 6 or 7 kilos in the region. Outside of working organically and controlling yields, Diego renounces a formulaic approach to vineyard work, opting for a more evolved and "intuitive" approach.
 
In the winery, Diego is extremely low-intervention since he wants his wines to retain their energy and life of the vineyards. In such, he employs a mix of unlined concrete vats and older oak and chestnut casks & foudres, since he feels that these materials breathe, while stainless steel is an inert material that will "kill" the nature within the wine. During elaboration he does not use pumps, additives or SO2 additions - starting with the 2016 vintage in his newly built bodega - stating that "enological products are cogs in the capitalist machine." Diego views his winemaking as an extension of the creative process that he practiced in his days as a musician. A favorite Diego quote - "Too many people in natural winemaking copy and paste the words – they don't struggle, they don't feel their vineyards." Clearly, Diego is not your average Viñador!