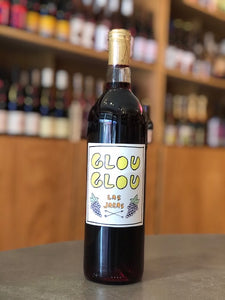 This vintage can make your homebound meal sing.
Glou Glou is the kind of light red blend with Zinfandel, Carignan, Petit Sirah that tastes like sparkles and bright, summer fruit. It has enough acid to stand up to your favorite pasta and tomato sauce, with intense berry notes that can perfectly complement smoky, tangy or spicy. 
Serve slightly chilled—this is a seriously refreshing red wine, and the perfect antidote to long evenings at home.
Most of the grapes underwent carbonic maceration, the classic fermentation method of the Beaujolais, which means that fermentation happened inside of berries themselves, causing them to explode in happy, boozy ecstasy. 
👁 fiesta red
👃🏾 juicy blackberry, crunchy cranberry and cool, wet earth
👅 smooth, fresh and light-bodied with moderate acidity, well-structured, food-friendly wine