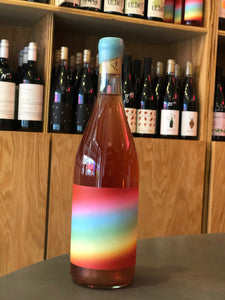 Producer:  Las Jaras Wines
Grapes:  Mourvèdre, Roussanne, Picapoll Blanc, Grenache Blanc, and Grenache
Geography:  California, United States
Appellation:  Madera
Features:  Organic, No sulfites added, Vegan
Las Jaras Superbloom is a complex, utterly unique wine that expresses the special characteristics of Love Ranch Vineyard in the Sierra Foothills. The red grapes give this wine a spicy nose and plenty of texture, while the white grapes add beautiful watermelon and rhubarb notes, plus a clean, mineral finish. Superbloom is named after the wildflowers that erupt in the desert after a wetter-than-normal rainy season. They're a sign that winter is over and warmer, happier days are ahead.
Producer
Joel and Eric make beautiful wine that is food friendly, lower in alcohol, balanced, delicate and supple. The wines evoke an emotional response and reflect the unique terroir of the vineyards. Las Jaras Wines are designed to transcend the natural wine trend and focus on taking you back to California wine making reminiscent of the Old World Style, like the beautifully crafted wines of 1970s Napa.
Las Jaras Wines serve two purposes: having fun and the serious business of perfect food pairing. The Rosé and Sparkling Pet-Nat are bottle popping, gulpable joy to get the party started. The Carignan, Sweet Berry Wine, and Cabernet Sauvignon offer that perfect restrained balance of alcohol, acid and tannin structure that complements the food on your plate. These wines reflect Joel and Eric's passion and the Las Jaras Wines mission. Enjoy!