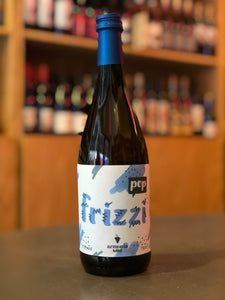 Varietal:
60% Pinot Nero, 40% Durella
Age of Vines: 10-50 years

Varieties: 60% Pinot Nero, 40% Durella
👁 Slightly pink/orange
👃🏾 stone fruits marmelade, dried red berries, easy and mineral notes
👅 dry, but soft and highly drinkable, sprinkled with white pepper notes and floral notes, fresh cut herbs 
Grapes are hand harvested and destemmed. The grapes are pressed and the pinot and durella ferment separately in stainless steel tanks where temperature is controlled to keep the wine under 85 degrees. Vinification takes place over 8-10 months. The two varieties are blended and bottled when fermentation is finished, along with some frozen must from the same vintage to provide the sugar for the bottle fermenation to finish in bottle as a pet-nat. The wine is unfined, unfiltered, zero so2 added and it is not disgorged. The wine has a slightly pink/orange hue thanks to the soft pressing on the pinot noir, but it is not a macerated orange wine.