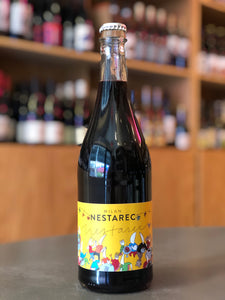 Moravian Pinot Noir made naturally. Organically farmed grapes, indigenous yeasts fermentation, no filtering and no sulfites added.
Medium/light-bodied, herbal and stemmy this is a complex red with a bit of the natty funk.
Staff Notes: meant to be chilled, easy, chuggable and light, lots of juicy cherry and peppery zing.
👁 ruby

👃🏾 blackberry, dark sour cherry
👅 medium/light-bodied, silky, juicy cherry with a smooth mouthfeel  and peppery zing
About the Distributor: 
Milan Nestarec has quickly become the star winemaker of the Czech Republic during the time we've been working with him. His wines display so much life, vitality, and originality, that they have become very sought after all over the world in a very short time. We are honored to have been working with his wines since 2014. The wines we are selling now represent the full evolution of his original vision: a full range of wines, from quaffable yet energetic and inexpensive wines like the forks and knives and liter bottlings of Nach and Bel, to the amazingly expressive skin-fermented wines, made entirely without additions of sulfur. 
Milan's father planted  8 hectares of vines in 2001 across two wine-growing municipalities: Moravský Ikov and Velké Bílovice. Milan studied winemaking with Aleš Kristančič of Movia, where he learned a great deal about the delicate art of making skin-fermented white wines. No herbicides are used and the vines are worked organically. He believes that gentle methods of growing grapevines and grape processing give the best result. All wines in the cellar are fermented spontaneously and they are usually vinified in oak and acacia barrels.