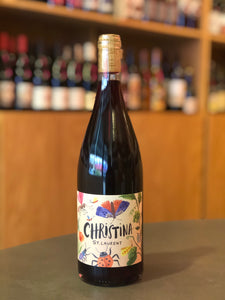 Region: Edles Tal / Carnuntum / Austria
Process: Vineyard/Cellar Stats: Organic farming (in process of certification); whole bunches are sorted gently in open boxes and ferment carbonically, in a very slow and cold fermentation in the old cellar. After 3 weeks the whole bunches are pressed into old oak vats, finishing fermentation as juice. Elevage takes place in 500 liter vats for 18 months; bottled unfined/unfiltered with minimal So2; 12.5%.
Staff Notes: Carbonic maceration lifts the vibrant red berry fruit, and the slow, cold fermentation helps extract color without the harsh tannins. Juicy and velvety, fun & playful, whole bunch/carbonic, dark berried, spicy, smashable and chillable red. Light/med with tart red fruit
Pairs great with grilled veggies and salsa verde.
👁 vibrant darker ruby red
👃🏾 blueberry jam, cranberry sauce 
👅 juicy and velvety, with pretty alpine spice and crunchy fruit.
Herstory: Christina Netzl began her path towards natural winemaking as a young girl of 5 years old, working on her family's farm and vineyard with her parents and grandparents. Her parents later focused the family business solely on grape growing and winemaking, building the winery up to the 28 hectares they operate today in the Carnuntum winemaking region, located just east of Vienna and north of the Neusidler see. Christina studied oenology and wine management in London, getting to know wine styles from all over the world. In 2007, she returned to the winery to work with her parents, and after having two children became passionate about organic viticulture. They began the process of converting everything to organics in 2013 starting with soil treatments and elimination of herbicides, followed by eliminating pesticides and 100% organic vineyard management and then finally organic production in the winery. In 2018 they began the official process of certifying organically. Over the last 10 years working at the winery, Christina has fallen in love with ancient winemaking practices and thus has now launched this natural wine.