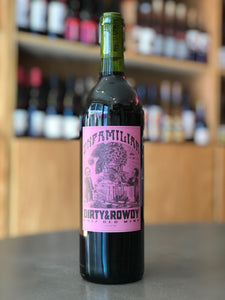 Staff note: juicy, fresh, and just a touch funky; it is delicious.
At 3200ft, on a clay loam and sandstone slope in the middle of nowhere, someone was crazy enough to plant a vineyard, "because it looked like Napa." Extreme in its location, it produces a distinctive Mourvèdre; it is a wine of lift and light. 
The sadness with this wine is that there are only 44 cases. The joy is that there is anything at all. Spice and stone, it has more polish than the Familiar. The lines are more defined, the finish more elegant. It is still the Mourvèdre for Gamay lovers. It has its unmistakable mashed raspberry notes and its flavors will convince the skeptics that wine is food. 
Vinification Method: 100% Whole Cluster Fermentation. Native yeast. Lightly tread by foot, pumped over 1-2x a day. Racked only at bottling. Unfiltered, unfined. Minimal sulfur.
👁 dark scarlet
👃🏾 rasberry, rose petals
👅 full-body, lots of ripe fruit but not overly jammy