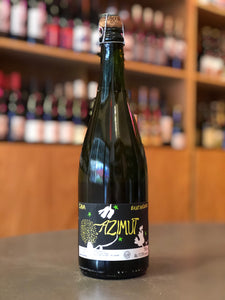 Cava, the famed Spanish sparkling wine made in the same method as Champagne.
 👁 pale yellow
👃🏾complex and intense aroma of mature white fruit
👅 palate is soft but elegant with small and constant bubbles
Estate: Owned by the Suriol family, Cellers de Can Suriol del Castell is known for making wines and vintage Cava with personality in the organic winemaking tradition. They make wines under the Suriol brand which are all estate bottled fruit and then they make the Azimut line from purchased grapes from their neighbors, all of whom work organically. The Can Suriol vineyards and winery are situated in Alt Penedes, Province of Barcelona, Catalunya. This region is justifiably famous for producing fine wines and cava. The cultivation of the Can Suriol vineyards is done by 100% organic methods as certified by the CCPAE (until 2007 NOP certification).