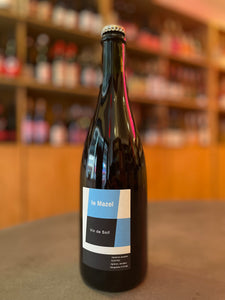 Distributor: Goatboy Selections
Producer: Le Mazel
Category: Wine - Still - Red
Region: France
Appellation:  Vin de France
Grapes: Carignan & Grenache
Vineyard: Organic
Cellar: Fermented with native yeasts, unfiltered & unfined, no additional sulphites


Notes
Vin de Soif is a true wine of thirst - Gérald's quaffing wine. Roughly a 50/50 blend of Grenache and Carignan that, like most of the Le Mazel reds, starts off with a ten-day carbonic maceration, before being racked and allowed continue the ferment, long and slow, at cellar temperature. The wine is immediate, with dark, herbaceous fruits and has low tannins, a zippy line of acidity and an iron-y, blood-like quality. Simple, unfussy wine to drink every day, with food or without - preferably lightly chilled.

Gérald Oustric is one of a distinct group of winemakers that experienced a shared epiphany after meeting Marcel Lapierre during the 80s. At the time he was working the family vineyards in Valvignères, a village in the southern half of the Ardèche, alongside his father. All the resulting fruit was sold to the local co-operative. It was after this fateful meeting with Lapierre that Gérald realised there was another way to tend the vines and turn the resulting grapes into wine, and by the late 90s he had pulled out of the co-op, converted the domaine to organic and started to realise his vision of making wine with no additions at all. He joined forces with his sister Jocelyne, and Le Mazel was born. Over 20 years later they now own 19 hectares, with some of the fruit sold on other producers, and a good percentage leased out to friends and emergent winemakers such as Anders Frederik Steen and Sylvain Bock, whom Gerald and Jocelyne have enjoyed a collaborative working relationship with since they started to make wine in the area. Le Mazel wines are a literal translation of the mistral-swept valley in which the vines sit over clay and limestone soils. They also embrace the vintage variations that can occur when making wine in this way rather than fighting against them; the resulting wines are vital, nourishing and a new surprise each year.