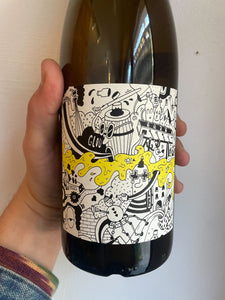 Winery: Le Sot de l'Ange
Grapes: Chardonnay, Chenin Blanc, Sauvignon Blanc
Region: France / Loire Valley
Alcohol content: 12.5%
Farming and Cellar Practices Biodynamic, Low SO2, Native Yeast, Organic

Notes
Fruit forward with primarily melon and pear, tropical, clementines into lemon acidic tail; secondary notes of nutmeg or hazelnut. 

About the Producer
Before taking over a friend's estate just in time for the 2013 vintage, Quentin Bourse worked in various fields (wine related and not) including numerous internships in the surrounding area, including a six-month stage at the famed Vouvray producer, Domaine Huet. These experiences have shaped his winemaking philosophy; his relentless work ethic, innovation, and borderline obsessive perfectionism result in meticulously crafted, serious wines.

Quentin's estate in Azay-Le-Rideau is certified biodynamic. His vines cover approximately twelve hectares, and he cuts no corners while working in the vines, doing everything by hand, usually without help, and limits copper sulfur sprayings to 500 grams a year: 75% less than commonly used by other producers in the area. 25 friends help harvest in multiple passes, berry by berry, ensuring that the grapes reach peak maturity.

All of the grapes are painstakingly sorted four times before whole-cluster fermentation with indigenous yeasts in tank, and a slow, gentle pressing that in some cases lasts five or more hours. Aging occurs either entirely in tank, neutral barriques, or amphora depending on the cuvée, and zero sulfur is added during the winemaking process for the reds; a touch is added for the whites. The result is wines with soul, immediacy, and tension.