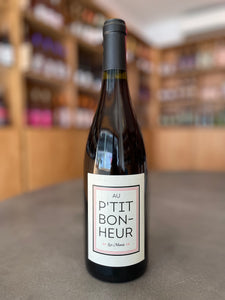 France / Vaucluse / 2019

90% Cinsaut, 10% Grenache

From the Importer: Vincent and Aurélie Garreta farm five and a half hectares of vines in Vaucluse, situated in a dreamy expanse of landscape between Provence and the Rhône Valley. The couple are a true team whose warmth and radiance translates directly to the grapes they farm—Grenache, Clairette, Carignan, Cabernet Sauvignon, Aubun (a local variety on the verge of extinction), Cinsaut (spelled the ancient way, taking the lead of renowned ampélographe Pierre Galet)—and the people who help them. Come harvest, they employ eleven workers (eight women, three men) from 8am to 4pm for a period of 10-15 days, depending on the year.

Much of the juice undergoes semi-carbonic maceration and ferments in cement, at which point it is left to age until blended and bottled in the spring. The results are jewels of varying degrees of ruby-red: Au P'tit Bonheur is vinified separately with a short maceration (3 + 9 days, respectively). Light, ethereal Cinsaut is chosen for its floral nose with Grenache added for length.