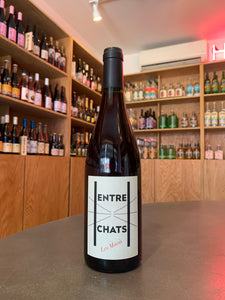 Grapes: Grenache, Caladoc, Cinsaut, Syrah

Region: Vaucluse, France 
Certified Organic 
Vincent Garreta worked in environmental and agronomic statistics and was a client of Vinnouveau. And he recently took the plunge to become a winegrower! I lost a client and gained a supplier ... His taste for natural wines of course led him to work, with his partner Aurélie Robert, without chemicals and without inputs.
From his tiny estate in Gordes, he makes delicious juices that are drunk without thirst. Entre Chats is a blend of caladoc, grenache, cinsault in semi-carbonic maceration. Fresh, fluid and easy to digest, with bright fruit, it's amazing.
This blend of light & bright juices is what Vincent calls "the little cuvée." He blends a little bit of tannin and extraction with a little bit of crunch and spice, resulting in a demure bombshell of strawberry & dusty cherry notes. The name of the cuvée translates to an interweaving of distinct elements into something seamless and unified, in this case the assemblage of white and red grapes that change from vintage to vintage. Similarly, the classic ballet jump entrechat refers to the sensational crossing of the legs back and forth in rapid succession, a movement that evokes the way our hearts fluttered the first time we tasted this wine. 
👁 blackberry

👃🏾 demure bombshell of strawberry & dusty cherry notes
👅 fresh, fluid and easy to digest, with bright fruit, it's amazing
From the importer -

The couple is a true team whose warmth and radiance translates directly to the grapes they farm—Grenache, Clairette, Carignan, Cabernet Sauvignon, Aubun (a local variety on the verge of extinction), Cinsaut (spelled the ancient way, taking the lead of renowned ampélographe Pierre Galet)—and the people who help them. Come harvest, they employ eleven workers (eight women, three men) from 8am to 4pm for a period of 10-15 days, depending on the year.
The workers break for a pause at 10am (café and pâté, wine on "special days") and then lunch in the vines a few hours later ("real local proper food + tasting wine"). After they're done in the vines, they take turns accompanying Vincent to the chai in groups of 3-4. In the chai, they add grapes to the tanks and footstomp before they wash the boxes, relax with a cold beer around 7pm, and return to their campsite on a nearby farm (paid for by the Garretas). Vincent finishes the day by cleaning the chai and is usually home to Aurélie by 9pm.