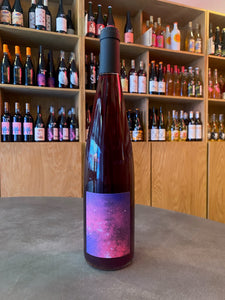 Producer: Les Vins Pirouettes by Binner & Compagnie
Category: Wine - Still - Red
Region: Alsace, France
Appellation: Alsace
Notes
Varietals: Auxerrois 12.5%, Pinot blanc 20.8%, Pinot Noir 26.6%, Muscat 6.6%, Pinot Gris 16.6%, Riesling 12.5%, Gewurztraminer 4.1%

Farming: Organic, Unfined/Unfiltered, Low added SO2

Superbly alive red-white coferment – not only Ultra Violet but also Ultra Glou! Tarte dark berries with racy acidity. Best served with a chill!

Grapes are hand-harvested, sorted in the vineyard, and then macerated as whole bunches for 5 days. The juice is then fermented with indigenous yeast and zero sulfur in stainless steel, elevage for 7 months in stainless steel tanks, bottled with zero addition of sulfur (9ppm SO2 total). Unfined and unfiltered.