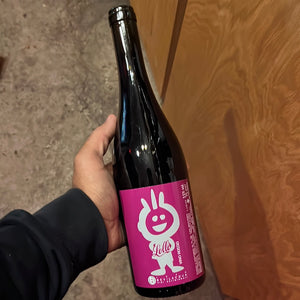 Winery: Luca Bevilacqua
Grapes: Montepulciano
Region: Italy / Central Italy / Abruzzo / Montepulciano d'Abruzzo
Wine style: Italian Montepulciano d'Abruzzo
Alcohol content: 11.5%
Allergens: Contains sulfites
Notes
Luca Bevilacqua is a young winemaker (and professional sommelier since 20 years) based in Atessa Val di Sangro, Abruzzo. 2019 is his 3th vintage and it's already boom!

100% Montepulciano made in semi-carbonic maceration: the grapes were whole bunch (not destemmed) but crushed by feet before going into stainless steel tank with no oxygen for the entire maceration period. Lollo was also the first wine he ever made, named after his son This is a purple red, dark and red berry scented, with lovely fine tannin and a touch of smokiness.

Service tips: With "ventricina", a cured meat made with a different cuts of pork with a high percentage of fat and dry sweet pepper powder. Dry humid aged for a year in a gut sac.