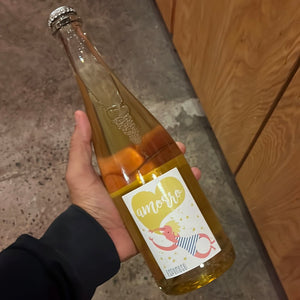 Supplier: Selections de la Viña
Producer: Bodega Vinificate — Mahara Viticultores
Category: Wine - Sparkling - White
Grape: Palomino
Region: Andalucía, Spain
Appellation: Cádiz
Notes
As you can see the brothers Miguel and Jose have been staying busy! This is the new sparkling counterpart to the still Amorro Blanco, made in a similar fashion. Grapes come from 2 different vineyards in "Pago de Marquesado" in Chiclana de la Frontera. One mostly sand and the other mostly albariza, both ranging from 35-40 years of age. Grapes go direct to press and are spontaneously fermented and aged in porous fiberglass vats and (finished fermentation in bottle) for 8 months. Bottled unfined, unfiltered, and with low to no S02.

Bodega Vinifícate (aka: Mahara Viticultores) are the Gómez Lucas brothers who produce all sorts of cool wines using interesting methods. You may be familiar with the "Amorro" bottles with the red hearts and striped shirts. These are new wines labelled with illustrations of local birds, fish, and nature from the Bay of Cádiz.