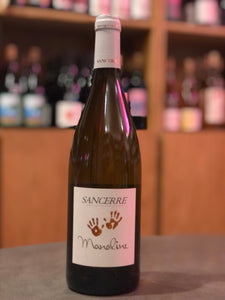 Producer: Nicolas Carlin
Category: Wine - Still - White
Grape: Sauvignon Blanc
Region: Loire Valley, France
Subregion: Central Vineyards
Appellation: Sancerre

Notes
An honest Sancerre, this wine abides by the 'Three Gs' of Sauvignon Blanc: grass, grapefruit, and gooseberry. Medium-to-full body. Dry. Bright acidity and very crisp finish.

ABOUT THE PRODUCER
Langdon Shiverick is pleased to debut Nicolas Carlin's Manoline Blanc, a special cuvée bottled uniquely for us of 100% Sauvignon Blanc from the renown terroirs of Sancerre. Though Nicolas grew up in Paris and studied software, his family house in Crezancy-en-Sancerre was where his heart was always drawn. He interned summers in the wineries not only of family friends but also at Domaine de la Voltonnerie, the Sancerre property belonging to his future father in law, Jack Pinson. He matriculated from Paris to Enology school in Beaune and shortly thereafter began making the wine full time at Voltonnerie. Domaine de la Voltonnerie saw its inception in 1970 on 1 ha of land. Now four decades later the winery, located to the southwest of the village of Sancerre proper, sit on 16 hectares: 12.5 ha of Sauvignon Blanc and 3.5 ha of Pinot Noir on clay-limestone slopes. Nicolas and wife Alix (daughter of Voltonnerie's founder Pinson) took over the operation of the estate in 2010. Carlin launched his own Manoline line just a year later. Manoline is a composite of the first names of Nicolas & Alix's two daughters Manon and Caroline. The two handprints on the label symbolize the conjoining of Carlin's life in Paris with his new life in Sancerre, and also the 'balance, structure, and love' that goes into the production of each bottle of Manoline.