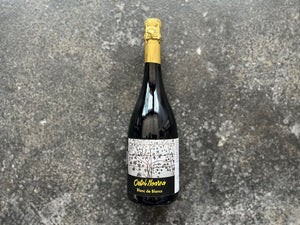 Producer: Castel Noarna Marco Zani
Country: Italy
Region: Trentio-Alto Adige
Varietal: Chardonnay
Size: 750ml
Wine Notes
The sparkling Blanc de Blancs is made from Chardonnay vines trained in high arches ("Pergola"), a training system that is distinctive of the region, and which seem to bring more phenolic character to the wines. It is vinified as a methode champenoise, but wit no dosage. It is simply the best "Southern Swabian" sparkling wine we have ever tasted.
Castel Noarna Marco Zani Description
Marco Zani is one of the newer additions to the Selection Massale portfolio, but he already feels very much part of the family. The family domaine was put together by his father, who bought the castle (yep, there really is one, and Marco makes his wine with in its 10th Century cellars) and surrounding vineyards, which are situated on the lower slopes of the mountains that tower either side of the little town of Rovereto. Although his father was not a vigneron (like most growers in the village, he sold each years' crop to the cooperative), Marco knew from an early age that he wanted to make wine, and since 1989, Marco has been (fanatically) tending the vineyards and making the wine at Castel Noarna, as well as helping his wife to run the best hotel/restaurant in town.

The castle and the vineyards lie on east/southeast facing slopes at about 350 meters above sea level -- these are high alititude vineyards, similar to those of Belluard in the Haute-Savoie, and Knauss and Beurer in Swabia. The soils, which Marco has worked organically since 2008 are rich in minerals and poor in organic matter, and exactly what's needed for making of grands vins. Limestone, our favorite, quartz, slate, silt.