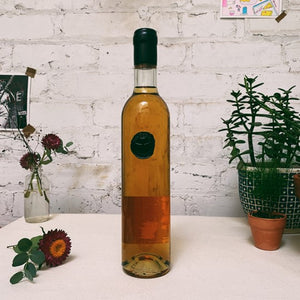 Color: White
Vintage: 2019
Country: France
Region: Corsica
Producer: Dom. Pinelli
Grape Variety: Muscat
Notes
If you were to look up the word "luscious" in the dictionary, you'd probably find a picture of Domaine Pinelli's Muscat 'Impassitu' right next to it. This dessert wine develops its rich, lingering texture from a process where the berries raisinate on the vine before being pressed into wine. Mandarin oranges drizzled with caramel, kissed with fragrant wafts of honeysuckle.

Muscat à Petits Grains is a white grape with tight clusters and small berries.

The Muscat vines are planted in two different types of soils: limestone and granite.

The first grape Marie-Charlotte Pinelli ever worked with as a vigneron was the Muscat grape; it is her speciality.

Marie-Charlotte Pinelli started making wines at the tender age of 19, fulfilling her lifelong childhood dream and being one of the youngest winemakers on the island of Corsica.

Vibes with:
Costume jewelry.
Spicy thai noodle dishes.
Tropical glamping trips