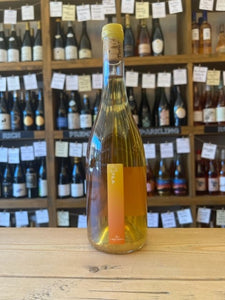 Grape: Xarel-lo 100%
Category: Orange
Region: Catalonia (Spain)
Alcohol content: 13.0%
Vineyards: 70 years old vineyards
Vinification: 21-day maceration, alcoholic fermentation with indigenous yeasts, 6 months in amphora
Aging: 6 months in glass
Production philosophy: Artisanal, Organic, Biodynamic, Macerated on grape peel, Indigenous yeasts,
Notes
The Mas Gomà estate consists of a main farmhouse, founded in 1724, and a small and charming Romanesque church called Sant Valentí, built in 1135. The estate is located in Les Cabanyes, in the heart of the Penedès, a historic and traditional area of the viticulture. The property has been owned by the Vendrell family since 1918 and has been growing grapes and producing wine on and off since then. The new era started in 2009 when Joan Vendrell (the son), who handles the business side of things, and Joan Manel Vendrell (the father), who has 30 years of winemaking experience took control.

According to the two Joans, the estate has unique characteristics to be able to make long-aged cavas due to the high calcareous component of its terroirs, its orientation and the old vineyards - over 60 years old - which provide high quality grapes with low yields. Only the oldest vines are used to make wine on the estate, and they currently sell grapes from younger vines to other producers in the area. In the cellar everything is fermented with native yeasts, little to no sulfur is added depending on the cuvée, and everything is unfined and unfiltered.