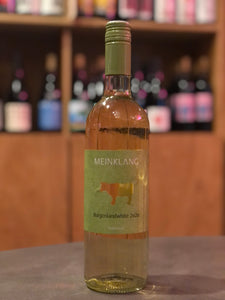 Supplier: Zev Rovine Selections
Producer: Meinklang
Grapes: 100% Gruner Veltliner
Category: Wine - Still - White
Region: Burgenland, Austria
Features: Biodynamic
Notes
As what might be considered Meinklang's 'house white' this Gruner Veltliner far surpasses the constraints of that moniker in both quality and distinctiveness. Fermented with native yeasts and raised in steel tanks on the lees, the wine glows with aromas and flavors of pear, white peach, lime rind and white flowers. Its light-to-medium body and super-crisp acidity make for ideal summer drinking - a great pairing with fresh veggies and grilled chicken. Pure sunshine in this bottle.
About the Producer
The Michlits family runs the Meinklang farm which is a wide and varied Demeter-certified agricultural operation cultivating a number of different crops as well as raising 300 Angus cattle. The estate represents what used to be common practice everywhere in the Pannonian countryside: a mixed farming operation, managed by extended family. The wine estate is well integrated into the farm and lead by Angela and Werner Michlits.