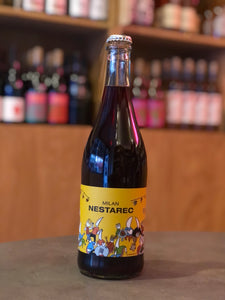 Producer: Milan Nestarec
Category: Wine - Still - Red
Grapes: Pinot Noir, Blaufränkisch, Cabernet Sauvignon, and Cabernet Franc
Region: Moravia, Czech Republic
Appellation: Moravia
Features: Organic, No sulfites added, Vegan
Age of Vines: 15 years.

Production Notes
Grapes are hand-harvested and destemmed. The wine is fermented in 2500-liter stainless steel tanks for about 10 days with indigenous yeasts. The skins remain in contact with the juice for about 3 days, for a light and soft extraction and occasional pigeage. Half of the wine stays in tanks and the other half goes into used 225-liter oak barrels for elevage for about 13 months. The wine is bottled unfiltered, unfined, and with zero sulfur added.
About the Producer
Milan Nestarec's vineyards comprise 8 hectares across two wine growing municipalities: Moravský Žižkov and Velké Bílovice. No herbicides are used and the vines are worked organically. Milan believes that gentle methods of growing grapevines and grape processing give the best result. All wines in the cellar are fermented spontaneously and they are usually vinified in oak and acacia barrels.

Practicing organic.