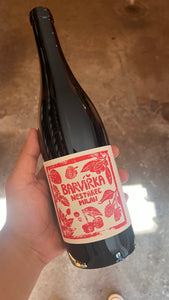 A fantastic red-white blend from Milan Nestarec made with organic grapes grown in Moravia. Deeply hued yet surprisingly spritely carbonic red of Dornfelder, Zweigelt and an undisclosed mix of white varieties. Dornfelder is a rare type of grape that has colored flesh, what the French call teinturier and that roughly translates into Czech as barvirka.
This results in its vibrant violet color but despite this is a light red in constitution, best served well-chilled.
Amazing notes of plums, danube cherry, Boylan's red birch beer and red licorice with pilsner-like saaz hops and cannabis aromas.