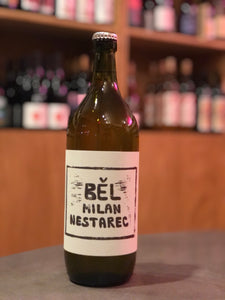 Producer: Milan Nestarec
Category: Wine - Still - White
Grapes: Grüner Veltliner, Müller-Thurgau, and Welschriesling
Region: Moravia, Czech Republic
Appellation: Moravia

Notes
A liter bottle of blend white varieties from the organic wunderkind Milan Nestarec. This is his entry-level cuvee, done is a larger bottle and with a very low does of sulfur at bottling but otherwise akin to all his other wines. No filtering or fining and wild yeast fermentation. Lightly aromatic, very dry and bright, super easy drinking and great with white meat, fish and greens.
ABOUT THE PRODUCER
Milan Nestarec's vineyards comprise 8 hectares across two wine growing municipalities: Moravský Žižkov and Velké Bílovice. No herbicides are used and the vines are worked organically. Milan believes that gentle methods of growing grapevines and grape processing give the best result. All wines in the cellar are fermented spontaneously and they are usually vinified in oak and acacia barrels.

Practicing organic.