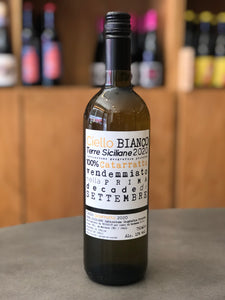 Producer: Normanno
Category: Wine - Still - White
Grape: Catarratto
Region: Sicily, Italy
Appellation: Terre Siciliane
Features: Organic
Notes
The Vesco family are the driving force behind Ciello, and they're a dynamic bunch keen to spearhead the direction that Sicilian wines are going in the 21st century. Their belief in low-intervention and natural viticulture is bringing the grapes of Sicily to a global and increasingly savvy wine-drinking audience. On top of this, their fresh, bright flavours, and open-minded use of a blend of traditional and modern methods have captured the imagination of a whole army of new fans. The sun-soaked island of Sicily is a wine lover's paradise: the ancient vineyards which cover the rocky soils have been producing high-quality wines since time immemorial, and wine runs through the veins of the Islanders instead of blood. It is here we find the winery of Ciello, one of the few organic organisations in Sicily, but one which is quickly and confidently converting the population to the concept of sustainable, zero-intervention viticulture.

The vineyards themselves are located in the sandy hills of Alcamo, nearly 300 metres above sea level. The fruit is picked early to retain acidity and freshness resulting in bright, crunchy and satisfying wines. It is made from Catarratto, a local grape variety, and undergoes a short maceration on the skins – in the same way as you would make red wine! This lends an extra element of grip to the wine, and also contributes to the faint amber hue in the colour of the wine. This shows off flavours of golden apple, quince, dandelion and salt, with plenty of refreshing acidities. A really exotic wine, with verve and intrigue, but without forsaking enjoyment and deliciousness.