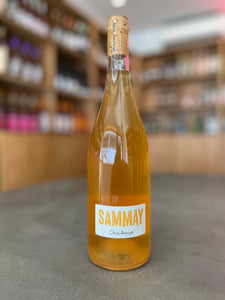 Producer: Oriol Artigas
Category: Wine - Still - White
Region: Catalonia, Spain
Appellation: Alella
Tasting Notes
Sammay Blanc is produced from north facing, high elevation Macabeo and south-facing Xarel-lo harvested by hand a day apart on September 8th and 9th. The grapes were destemmed, macerated for 5 days and fermented with temperature control only during the most turbulent parts of fermentation. The wine is then raised for 6 months on the lees in tank and bottled without any fining, filtration or added SO2.
About the Producer
Hailing from Vilassar de Dalt in the heart of the Alella appellation, Oriol Artigas actually came to winegrowing serendipitously. He originally wanted to be a chemist (ala Jules Chauvet), but after working a harvest in Penedes, Oriol realized that a career in a laboratory wasn't for him and enrolled in an enology program soon after. He then worked at several wineries across Catalonia, which led him to teaching enology at the local university. Landing a steady job enabled Oriol to explore his true passion – a project revitalizing old coastal Alella vineyards and making supremely transparent, non-interventionist wines that evoke the nearby Mediterranean – wines laced with garrigue and sea salt.

Located just 15 kilometers north of Barcelona, Alella is a lesser-known region but has one of those familiar stories: A vineyard area that dates back to Roman times, once renowned for producing exceptional wines, and now, thanks to the appetite for sea-side real estate, has been whittled down to very little vineyard land. At just 220 hectares, Alella is one of Spain's smallest D.O.'s. But the proximity to the Mediterranean, granite soils called Sauló, and a plethora of native (read old) vines has inspired a cadre of growers to set up shop here and work to protect this area from extinction. There is no doubt that the quiet revolutionary Oriol Artigas is at the vanguard of this movement.

Oriol began making wine solely to enjoy with friends, but started this most current project with the 2011 vintage. His over-arching philosophy is to "cultivate the vineyards in the most natural and least interventionist way possible, to allow the grapes to express in the most intense way the landscape from which it comes." He works 7.5 hectare in total, with the majority of the vineyards being planted en vaso, very old, and located around his hometown of Vilassar de Dalt. He allows vegetation to grow between the vines, prunes very little, and works the vineyards primarily along the lunar calendar. In the winery, fermentations are completely spontaneous (no pied cuve is used), he does not work the must, aging is in steel vat, neutral French oak, or amphora, and sulfur is only added at bottling, if the wine demands it. The wines are not fined, filtered, or cold stabilized. He makes a wide variety of wines – white, rosé, and red- the color of the wine is defined by what grapes grow in the vineyard. Except for La Rumbera, all of the wines are co-fermented by vineyard site, and in the case of the wine La Prats (The Meadows), there are as many as 50 different red and white grape varieties that make up the cuvee, resulting in a rosé color. Oriol relies on the wisdom of the folks that originally planted these wild vineyards to make his cuvees. The sensibility of Oriol's wines are delicacy and natural qualities without sacrificing impact of flavor and delineated terroir expression.