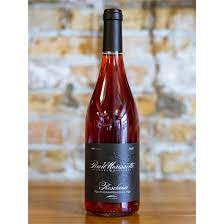 Producer: Pearl Morissette Estate Winery
Country: Canada
Region: Ontario
Varietal: Pinot Noir, Gamay, Merlot, Lemberger
Vintage: 2021
Size: 750ml

"Cuvée Roselana" is a deep, dark, and savory rosé made from young-vines.

66% Pinot Noir (Redfoot vineyard), 13% Gamay (19th str. vineyard), 14% Merlot (Redfoot vineyard) and 7% Lemberger (Knizat vineyard)

All grapes were processed through the direct press rosé method with
different times on skins (2, 4 and 6 days). The wines are fermented separately
in 100% concrete tanks. The élevage proceeded in the respective
fermentation vessels on primary lees and without sulphur additions or
racking for a total of 7 months. The wines were then blended and aged for
an additional 2 months in stainless steel tanks.

François Morissette doesn't make wine for Ontario. He makes wine for the world, especially for those who appreciate his approach of minimal-intervention, purity, and low sulphur.

Morissette is classically trained, having worked on the Grand Cru terroirs of Frédéric Mugnier of Chambolle Musigny, Christian Gouges of Domaine Henri Gouges, and Jean-Marc of Domaine Roulot. Further oenological training was also undertaken at L'Université de Dijon.

He attempts to uncover the inherent nature of each and every vintage. The result of this focused dedication is a selection of wines that speak for themselves. At Pearl Morissette, no two wines are ever the same.