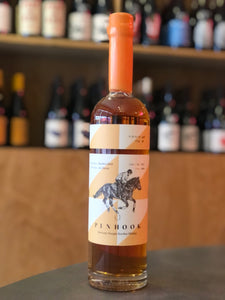 Distributor: Skurnik Wines & Spirits
Producer: Pinhook
Category: Spirit - Whiskey - Bourbon
Region: Kentucky, United States
Notes
• Distilled at Castle & Key Distillery in Frankfort, KY —the original Old Taylor distillery.
• All non-GMO and locally-sourced grains.
• Ground-fed, limestone-filtered spring water, straight from the source.
• Blended in batches of no more than 100 barrels at a time.
• Unfiltered.
• Blended for everyday drinking at a proof that stands up to dilution in a cocktail or when poured over ice.
• Hand-waxed in the signature orange that represents Pinhook's annual flagship expression of straight bourbon.

ABOUT THE PRODUCER
Every year Pinhook releases a new bourbon and rye, each of which is connected to a promising young thoroughbred horse. The whiskey in each release is the best expression of our barrels at that moment in time, and we blend and proof each release to be as unique as the horse on the label. The result is an annual vintage of Pinhook Bourbon and Pinhook Rye that become instant collectibles. And while it is impossible to know if the horse on the bottle will go all the way to the Kentucky Derby, there is no gamble on the quality of what's inside.

Breaking with the standard approach to American whiskey, where barrels are blended to replicate an established flavor profile at a fixed proof every time, Pinhook sees each set of barrels as a new crop, shaped by the natural variations in the ingredients and the elements. Working in small batches, we craft each vintage to express the best whiskey rather than the same whiskey, and set the proof to optimize the attributes of that year's crop.