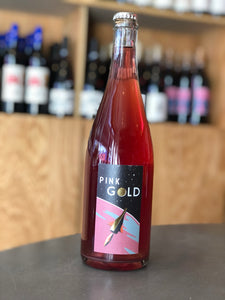 Vintage: 2019
Grapes: Trollinger
Style: Sparkling Wine
ABV: 11.5%
Region: Swabia
Sub-Region or Appellation: Baden
Viticulture: Certified Organic, practicing biodynamic
Age of Vines: 45 years old
Soils: Sandstone and marl
Yeasts: Indigenous
Vinification: Direct pressed into stainless steel, finishes fermentation in bottle (méthode ancestrale)
Fining or Filtering: None
Sulfur Added: None
This tart, zippy pet'nat of Trollinger is the gold standard (pun intended) for mouth-wateringly fresh glou glou juice that will sustain you through the end of summer. Made in a pet'nat style, the wine is spontaneously fermented and carbonation occurs naturally in bottle. It bursts with notes of pink grapefruit, underripe strawberries, cherries, and wild rose, and the finish will surprise you with a big hit of minerality and a lingering Hubba Bubba dust. It's always golden hour with this Pink Gold sour.