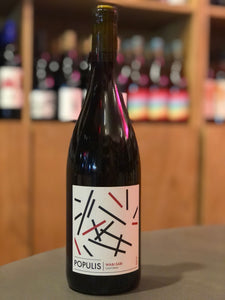 Producer: Populis
Category: Wine - Still - Red
Grapes: Zinfandel, Carignan, Chenin Blanc, Grenache, Colombard, and Pinot Gris
Region: California, United States
Subregion: Mendocino County
Features: Organic


Notes:
Average Age of Vines : 20-70 years old.
Farming : Organic.
Harvest : By hand.
Winemaking : Spontaneous fermentation with indigenous yeast.
Aging : In old oak.
About the Producers
Two winemakers (Diego Roig and Shaunt Oungoulian), one goal: BRING REAL WINE TO THE PEOPLE! We find amazing vineyards all over Northern California whose farming is top notch -- we say no to herbicides and pesticides, and yes to organic and old vines. And once we hunt down these special vineyards we do all we can to not screw it up -- and by that we mean no additions, no intervention, no manipulation nor tomfoolery -- just straight up fermented juice.