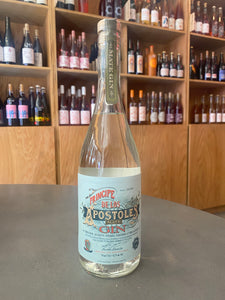 Supplier: St Killian (Spirits)
Producer: Principe de los Apostoles
Category: Spirit - Gin - London Dry
Geography: Argentina
Alcohol by volume: 42.0%
Tasting Notes
Although most of the botanicals used to make the Principe De Los Apostoles Mate Gin come from Misiones, Argentina, the gin itself is made in Mendoza. The botanicals include peppermint, eucalyptus, pink grapefruit skin and yerba mate, which is used to make a popular drink in South America and captures the spirit of Argentina rather well indeed. One of the first premium gins from Argentina, and a tasty one at that.

The fresh leaves of yerba mate, eucalyptus and pink grapefruit skins are macerated for 24 hours in stainless steel containers. Same for the juniper and coriander. The peppermint is macerated only for 2 hours. We then blend all the macerations and distill the blend. The result of the distillation is bottled and numbered by batch.
About the Producer
The history of the mate leaf dates back to the Spanish colonization of Argentina and the Guarani tribe who helped plant the first mate plantation in the town of Apostoles in the Misiones district, which today is known as the national capital of yerba mate. Renato "Tato" Giovannoni is the most celebrated mixologist in Buenos Aires and after years of experimenting, he finally nailed down the perfect formula for his own elixir and a unique way to honor the most Argentine drink of all – the mate.

This is the first premium gin to be made in Latin America - its main botanical ingredients are yerba mate, pink grapefruit, peppermint and eucalyptus – all of which are macerated separately and distilled in 200 liter copper stills. Smooth and sophisticated – a new world expression of an old world tradition.