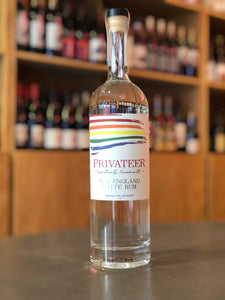 80 Proof | Age: Rested | Barrel: Neutral Vessel

The rainbow flag is a call for diversity and equality in support of the LGBTQQ+ community.

Our New England White Rum is a highly aromatic, richly textured, and deeply flavored expression. We begin with 100% single-origin, Grade A molasses made from fine sugar cane grown in the volcanic soilsof a single valley in Guatemala. Our sugar producer was founded by a brother and sister team and is a member of Sugar for Good, which ensures a commitment to the environment and pro-cane worker standards.

After a long, slow, cool fermentation and double distillation, our white rum rests in stainless steel tanks for 2 months to ripen. We bottle the spirit unfiltered and unsweetened to retain all the flavor and mouthfeel we've created. Tasting notes include pineapple, passionfruit, papaya,vanilla bean, and a hint of earthy tobacco blossom.