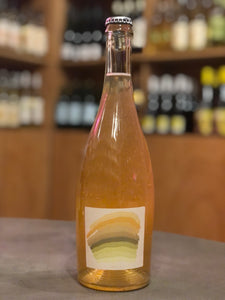 Distributor: D-I Wine (Direct Import Vines, Inc.)
Producer: Revel Cider
Category: Cider - Sparkling
Region: Canada
Alcohol by volume: 9.0%
Distributor Notes

Oud Blanc is a blend of skin contact riesling (34%), 2020 Perry (33%) and 2019 Cider (33%).

This is a blend of wild fermented Riesling, brett fermented cider, and wild fermented perry. Mouth puckeringly sour with slight funk from the perry. The Riesling portion is barrel fermented and aged for 8 months in Oak barrels.


Each vintage of fruit expresses itself a little differently. When we taste in the cidery, we often find ourselves reaching across time to piece together thoughtful blends.

What's it like?: It kind of smells like a pineapple chalky candy. After a heated discussion, we landed on pineapple Fun Dip (if that ever actually existed).

It has this distinct tropical note to it, like if someone made a dry pineapple liqueur and blended it with orange wine. The tannins are pronounced: chalky apple tannins as well as crunchy grape tannins. The texture grabs you; experientially it's like sucking on a plum pit.

It's got the psychological essence of sipping nice things on a hot beach. Distinct from past vintages, but far more representative of where our pallets are today.



About the Producer
Revel Cider started in 2014 as a solo passion project. Imagine our excitement when it turned out that, hey, lots of folks are fermentation enthusiasts!

By 2021, our team was seven people strong — with over 1000 boxes of Revel cans and bottles shipped to discerning drinkers every month.

Our characterful native yeast fermentations explore the endless flavours Ontario has to offer. Combining farm-grown and foraged fruits, discovering what the fermentation process yields, and aiming to bring out the best of each ingredient is what makes us excited to come to work every day. (Well, that, and all the incredible smells.)