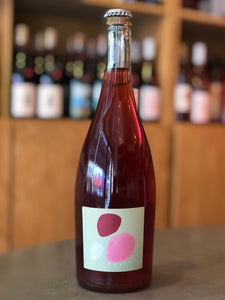 Distributor: D-I Wine (Direct Import Vines, Inc.)
Producer: Revel Cider
Category: Cider - Sparkling
Geography: Canada
Alcohol by volume: 7.0%
Notes
To make Soif, we blended two spontaneously fermented ciders aged on cherries and strawberries and added almost one tonne of Zweigelt skins for an extra month of skin contact. It's a red fruit bonanza.

What's it like?: Cabernet Franc and Montmorency Cherries meld into plush textural bliss. Strawberry aromas waft over it all. The fruit acids here are soft like silk.

Soif is easy. A thirst quencher; a glugger; a quaffable refresher.

6.1% ABV | 750mL

Ingredients: apples, cherries, strawberries, grape skins.

Zero added sulphites. Zero grams of sugar. Naturally fermented.
ABOUT THE PRODUCER
Revel Cider started in 2014 as a solo passion project. Imagine our excitement when it turned out that, hey, lots of folks are fermentation enthusiasts!

By 2021, our team was seven people strong — with over 1000 boxes of Revel cans and bottles shipped to discerning drinkers every month.

Our characterful native yeast fermentations explore the endless flavours Ontario has to offer. Combining farm-grown and foraged fruits, discovering what the fermentation process yields, and aiming to bring out the best of each ingredient is what makes us excited to come to work every day. (Well, that, and all the incredible smells.)