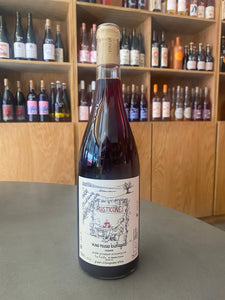 Region: Lazio
Country: Italy
Colour: Red
Grape Varieties: Sangiovese, Montepulciano, Aleatico
Soil type: Volcanic
Vessel type: Wood - Old oak
Serving: Chilled (12–14°C)

Notes
Le Coste Rusticone Rosso is a red natural wine made from a blend of red and white grapes grown in Lazio, Central Italy. Spontaneous fermentation with native yeast, unfined, unfiltered, no added sulfites, aged in neutral oak barrels. Estate farmed and bottled in Gradoli. Serving temperature: 56-65 F.

A hot vintage in 2017 left some of the wines overly tannic, so Le Coste put them to rest, and used their masterful approach to blending to deliver this very drinkable, red with a rustic feel as the name suggests.