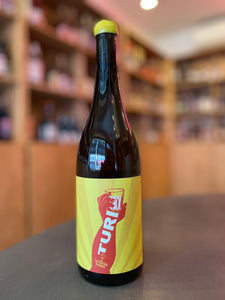 Producer: Salvatore Marino
Category: Wine - Still - White
Grape: Catarratto
Region: Sicily, Italy
Appellation: Terre Siciliane
Alcohol by volume: 11.5%
Features: Organic, Biodynamic, No sulfites added, Orange wine, Vegan
Notes
Spontaneous fermentation with native yeast, unfined, minimal sulfites at bottling. The 2019 Turi Bianco Catarratto is a medium to light body white wine, golden yellow, with notes of white flowers, Mediterranean herbs, and bright acidity on the palate.

From the island of Sicily, comes this natural white wine from Agricola Salvatore Marino. Marino is one who believes great wine starts in the vineyard. The vines are planted in free standing bushes, and hand harvested with respect to the lunar calendar. According to Marino, "hoe and pruning shears are the tools I use most."
About the Producer
Salvatore owns and operates a small farm in the Pachino region in the southeast corner of Sicily. There he grows a variety of crops including cereals for pasta flour, olives, fruits and of course grapes. Turi combines his great love for the vineyard and ancient traditions with study and dedication to respect the earth and its natural equilibrium.
The farm is informed by 5 generations linked to viticulture and wine production in Pachino.