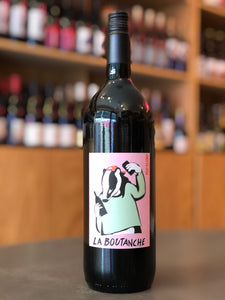 Grapes: Zinfandel, Carignan, and Valdiguie
This wine is delightful, very much in line with all of Broc Cellars wines, unpretentious, refreshing, and well-balanced.
Selection Massale's 'La Boutanche' series is an ongoing series of collaborations with leading winemakers working in the 'natural' mode -- fermentation with native yeasts, little to no sulfur -- to distribute tasty and affordable wines for immediate consumption.
Always in liter sized bottles colorfully adorned with anthropomorphic caricatures of the producers, these offer excellent everyday options for parties, dinners, and personal enjoyment.   
This new release taps California's Broc Cellars -- makers of endlessly enjoyable wines of the supremely 'glou-glou' variety.
👁 deep red
👃🏾juicy, brambly blackberry, black cherry, all spice, and a sprinkle of dried herbs
👅 medium body that is well-balanced